---
2019 is coming to a close, and what a year it has been, From Burlington to Korea and all the way to the high seas, our team of Guardians has been on a nonstop rollercoaster of adventures. For the final blog post of the decade, let's take a look back at some of the highlights from 2019.
In January, a group of excited children from South Korea traveled to our castle here in Burlington. Upon their arrival, the young heroes were tasked with helping our team with a challenge of galactic proportions: colonizing the red planet Mars. With STEM education, strong curiosity, and a little Guardian magic, the kids were successful in their efforts.
In March we celebrated the Spring Equinox with some Sumerian flare. A group of courageous young heroes rallied in The Castle one cool evening and encountered some terrifying creatures lurking in the shadows. They defeated the monsters and solved various puzzles, granting them an audience with a great spirit.
When June arrived, so did our summer camps at a new location, Salem State University. The adventures began with zombies overtaking the campus and young heroes, NERF blasters in hand, running headfirst into battle.
In August, our founder and CEO Meghan Gardner packed her bags and traveled to South Korea to join forces with some of the brightest minds in STEM education. She also had the opportunity to speak for a crowd of future heroes, spreading positivity and inspiration for the future to come.
In September, Guard Up turned a whopping twenty years old! We celebrated our birthday with our incredibly supportive community and families as our annual Spar-B-Q. We also unveiled a new identity for the company with a new name, Guardian Adventures, and an even more devoted commitment to promoting STEM education, creativity, and adventure. We also participated, as we do every year, in the Bedford Day parade, breathing fire in the streets for awestruck onlookers.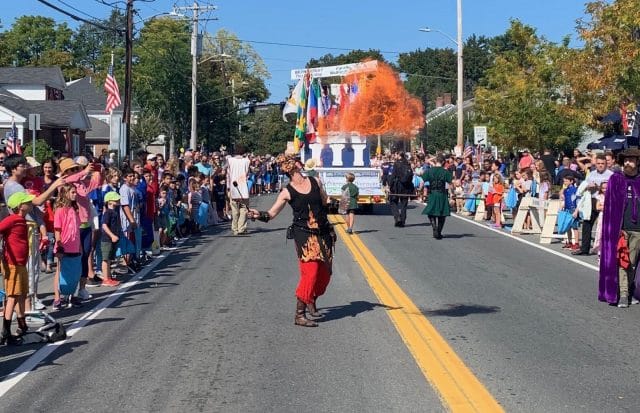 In October, our annual Day Of The Dead event came to The Castle. Children, teens, and adults alike enjoyed an endless supply of food, community, creatures, characters, educational activities, and foam sword fun. Although a strange being caused some mischief, the young heroes were able to save the day as always and were rewarded accordingly.
As the year came to a close, December brought some of our most exciting accomplishments. We publicly announced our partnership with Royal Caribbean Cruises, bringing our STEM-based adventures all over the world. Today, there are young heroes saving the world as they sail the seven seas, and learning a little something along the way.
We also had the opportunity to bring our Guardian magic to the Cary Memorial Library STEM Invasion in Lexington. When the lights went off at closing time, one hundred teens witnessed the bookshelves come to life as characters leaped from their pages and began causing a ruckus in the library. The teens used quick wits and creativity to banish the characters back to their books and successfully saved the library from eternal mayhem.
Phew! It's crazy to think that we packed all that into just one little year. The decade may be over but our story is just beginning. The new year promises some even more thrilling adventures and big announcements from your friendly neighborhood Guardians. Stay tuned to your weekly UpDate to keep up with us as we race into 2020, foam swords raised high.
One piece of new year news we can share is the introduction of Superheroes to our summer camp experience! The addition of a new class of character at camp is bound to shake things up and add some epic encounters to the adventure. You can even get a sneak peek this Friday evening at our free Innovation Night event (preregistration required).
If you thought this year flew by, you can expect next summer arrive just as rapidly. Register for camp now before the last minute rolls up faster than you planned for.
From all of us at Guardian Adventures, thank you for an amazing 2019 and have a very happy new year!
---