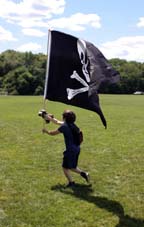 As you read this, we are just past the midway mark of our camp season of adventure, wonder, and education.  We would like to take this opportunity to look both backward and forward at this amazing summer of 2018.
In our new home in Salem, we have saved the world
twice
from an invasion of deadly zombie hoards using our blasters, ingenuity, and teamwork.  Heroes have analyzed the science of viruses, learned to cooperate between different and unique groups, and of course, destroyed plenty of zombies.  In these two, one week-long sessions of
Zombie STEM
overnight and day camp, our heroes have been able to express who they are through their creation of avatars to live within our world.  The literary theme of this year's camp was Jules Verne's
20,000 Leagues Under the Sea
. The staff was extremely excited to get the summer started with this fast-paced world of Nerf blaster action combined with the Guardian Adventures's innovative way of delivering education.  Make sure to check out our
Facebook page
for video updates and highlights.
After all the zombies were cleaned up,
Wizards & Warriors
set up shop for the remainder of the summer season exploring Bulgarian cultural stories.  Once sorted into houses, our Heroes replaced blasters with swords, protective eye goggles for shields, and swapped future for medieval fantasy.  Krali Marko has been saved from the evil clutches of the Lamia by our curious and energetic group. Through an immersive plot crafted expertly by our Guardian Adventures staff, our Heroes have learned about Bulgarian mythology, fought an onslaught of monsters, and have saved the world of Sidleterra from ultimate destruction.  As we approach the close of our first two week-long session and prepare for the second, our campers have learned how physics and geometry affect swordplay, how white blood cells affect healing, and a variety of other STEM  topics that are put into play in our realm.  Nestled proudly in the education and sword action has been some serious fun and friendship forming.  As houses march between encounters, lunch, and guild time, songs and laughter have rung out all summer long and fill the Salem woods.
We thank all of our Heroes for taking part in our world and each Hero Maker (you) for allowing your Heroes to make our world even better.  We hope a piece of Sidleterra comes home to your house and your Hero remembers our magical realm all year long.  Sidleterra is a place of education and adventure but also connection, belonging, and family.  From our family to yours, it has been an amazing adventure so far and we have another session to go!
The Team at Guardian Adventures
PS  If you have an older camper, be sure to consider our
Blackwatch Teen Camp
which will run in mid-August.