Although it may not feel like it, summer is just around the corner. While we continue to work harder than ever at providing classes and events to all of you (with the magic of Zoom) we are also still putting in the brainpower to making summer camp season the best that it can be. We've got plenty of surprises planned for our young heroes and fantastic stories to tell.
This year, however, we're not the only ones telling stories about Sidelterra. Our campers will be introduced to two new faces, both of whom are storytellers of a different variety. Say hello to Alex and Sam:
Alex Corbitt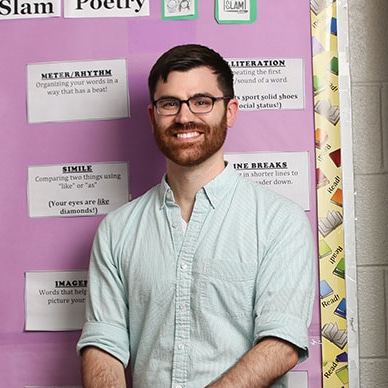 Alex Corbitt taught middle school literacy for five years in the Bronx, New York. He is now enrolled at Boston College and pursuing a Ph.D. in curriculum and instruction. His current education research focuses on literacy and gaming. He will be attending our summer camp as a character while writing a paper all about what we do each summer.
Sam Ho
Sam Ho has been a part of the Guardian family for many many years, helping us film our camps and events, making us look spectacular on your screen. As he continues his journey towards being a master filmmaker, he has elected to create a documentary on the Guardians and their young heroes.
We asked each of these storytellers a few questions. Read on to see what they answered…
What is your background regarding your field and regarding roleplay/live-gaming?
Alex: I was a middle school English teacher for 5 years in New York City, and I am now enrolled at Boston College as a doctoral student of education. As a researcher, I am interested in how people learn through gaming. I don't have a lot of live-gaming experience, but I am excited to learn more with the staff at Guardian Adventures. I've always loved role-playing games, and I continue to play a lot of tabletop games today.
Sam: I am a student at Brandeis University, soon to be graduating with degrees in film and economics. I worked on several short documentaries over the past couple of years; I hope to pursue a career in documentary film. Two summers ago, I worked as the videographer for Guard Up, and although I don't have much role-play experience, I had so much fun working alongside the heroes, and I look forward to capturing more exciting adventures.
What will you be seen doing this summer?
Alex: I will work alongside the staff and study how Guardian Adventures uses roleplay to create immersive learning environments. During the day, you will see me participate in all of the camp events. In the evening I will be reading and journaling to explore how Guardian Adventures contributes to cutting edge of educational research.
Sam: I will be seen carrying out the usual videographer duties this summer, but with a focus on a couple of heroes in particular. These heroes will be a part of a longer documentary piece that will highlight the camp's emphasis on informal education, as well as the positive impact that the camp's environment has on its heroes.
What will it accomplish? – What are your goals?
Alex: My goal is to be a long-term community member at Guardian Adventures. I plan to reflect with the staff and write about how Guardian Adventures rethinks traditional schooling. In the spirit of community, I hope to spread Guardian Adventures' philosophy and inspire educators around the country.
Sam: I hope to create a piece of art that truly shows what this camp can do and puts viewers in the shoes of our heroes. The kids love coming back year after year, and I want to show why.
If I am a parent, what would you want me to know about what you're doing?
Alex: With permission from campers and their guardians, I plan to conduct mini-interviews throughout the camp sessions. I hope to get to know the campers, understand how they learn best and explore how Guardian Adventures can best meet their goals.
Sam: I want this project to be collaborative. I want the heroes as well as their parents to be involved in the process as much as possible. Through this transparent collaboration, I hope to develop great relationships and create something meaningful.
What excites you most about this summer's project?
Alex: Guardian Adventures is the most innovative learning community I've ever encountered. The staff and campers are brilliant and creative beyond measure. I am humbled to learn and roleplay alongside them. I look forward to witnessing moments of inquiry and teamwork at camp that set the stage for life-long learning and personal growth.
Sam: I'm most excited about capturing the great relationships that are built through these adventures. Huzzah!
While we patiently wait for summer camp season to return to Sidelterrra, there are a plethora of online adventures available to heroes of any age. To learn more about how we've developed fully immersive and interactive online versions of our classes, events, birthday parties, and even our annual April School Break, visit the newest addition to the Guard Up website: Guardian Adventures Online.