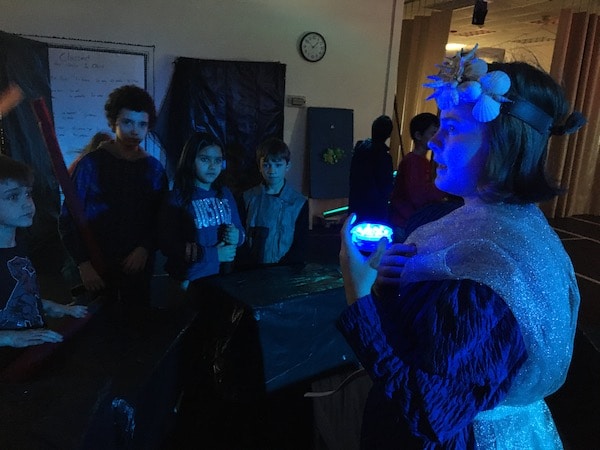 Make The Most Of Winter School Break
February School Break is almost here and that means that your young hero might be stuck adventureless. That's when the TV gets turned on and the days are spent "plugged in" to the latest video game or Netflix binge. Don't let that happen to your hero. Instead, let us suggest that they spend their days off learning, battling monsters, running around (exhausting themselves for when they get home) and saving the day…every day!
Our Winter Break Adventure is just what they need.
If you've ever sent your hero to one of our school break adventures or immersive STEM summer camps, you're most likely aware that storytelling is everything for us. The lore of Sidleterra, the development of our campers' characters, and the integration of cultural elements from around the world all enhance the live-action roleplaying experience that we love to create. Our story has grown bigger and better every year. This year we have such a giant tale to tell that we're splitting it into two parts. The first half will take place during this winter break and the second during spring break. Everything that happens will then continue forward when the 2020 summer camp season arrives. So what can our young heroes expect?
Many believe that the moon has mystical powers. Full moons can bring bad luck or unease to the world. So what would a Super Blood Moon bring to Sidelterra? The answer…is werewolves. Yes, that's right, werewolves are roaming the land and it's up to our heroes of all kinds to band together to save the day! We're calling on our Wizards & Warriors, our Zombie Defenders, and our newest class of character, the Superheroes, to defeat this terrifying threat before it's too late.
Speaking of "too late," we want to remind parents that last year this event sold out. Many heroes were unable to attend due to the capacity being met so quickly. We don't want anyone to miss out on this amazing adventure so please don't wait to register. There may not be any room left by the time that you do, and that would make even the meanest monster feel bad. Again, don't wait until it's too late. You can preregister today online or give us a call anytime the drawbridge is lowered and a Guardian will be ready to help you add your hero's name to the roster. Until then, may you find adventure worthy of you!