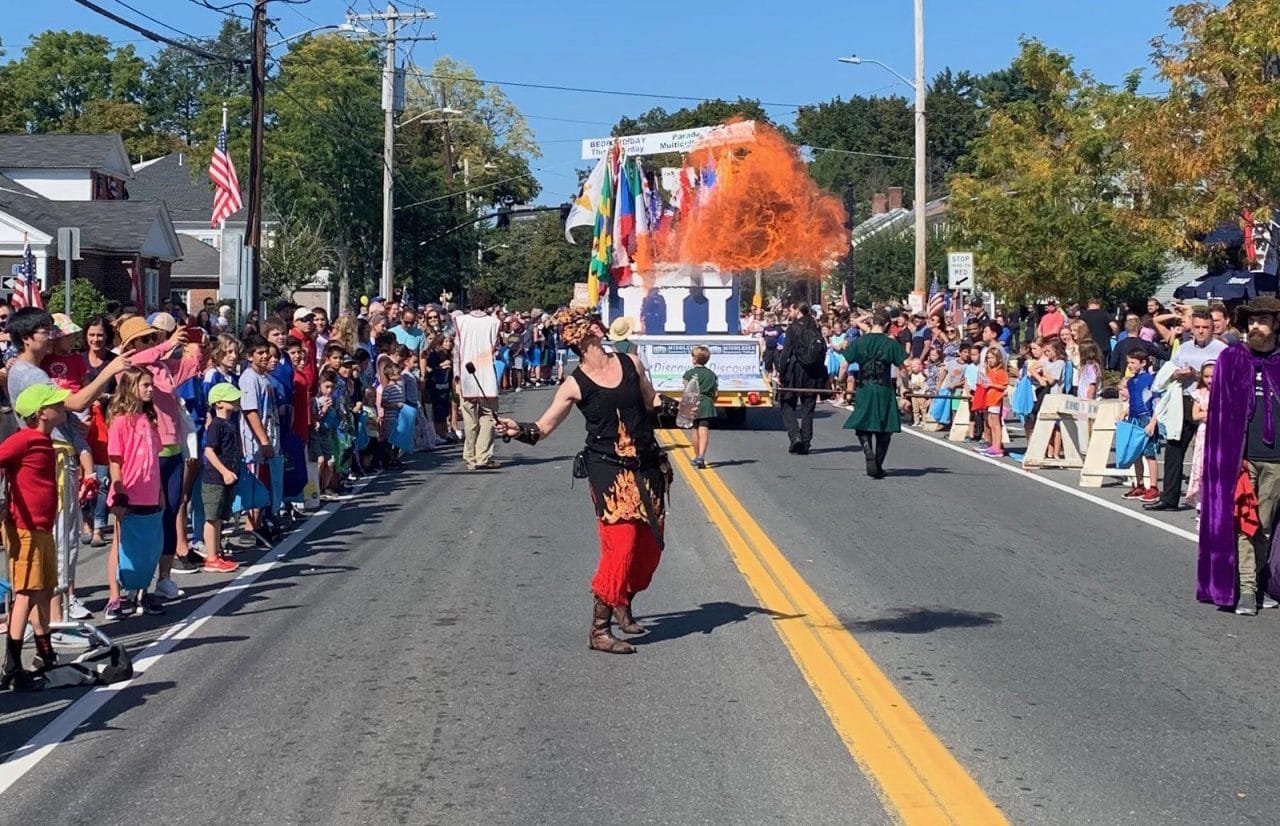 What you're seeing there is a fire spirit, breathing real flames into the sky at the Bedford Day Parade. You may be surprised to learn that the spirit is also our founder and CEO, Meghan Gardner…becuase what CEO shouldn't enjoy a nice flammable hobby? The fire department seems to agree.
The Bedford Day Parade is an annual tradition at the end of every summer, where the community gathers to support local business and celebrate their town pride. Guard Up's Guardian Adventures has been honored for the past decade to be a part of this tradition, and every year we crank up the heat just a bit more. During the parade itself you could find young elves and elder wizards marching alongside the fire spirit as the audience stared in awe (or took snapchats) of the billowing flames.
The parade concluded at the town center where local businesses had their EZ-Ups and pop up tents lined along the walkways. The Guardian Adventures booth was easily one of the most entertaining. Children, teens, and adults alike wandered over, not sure what to expect. What they got was a full fledged Guardian Adventures experience.
The "weary travelers" were greeted by an elf, requesting their help on her quest to restore sanity to the town fool, who danced, skipped, and jumped in circles around the unsuspecting travelers. They were then ushered to a small table where they were given stickers and sustenance for their journey (in the form of free candy). In the background, a wizard juggled and a forest spirit twirled a wooden staff.
Needless to say, people were intrigued.
There was also plenty of time to talk to hopeful wizards and warriors. The young heroes would first speak to our resident wizard, Steve the Magnificent…
…and would then have the chance to prove their skills with a foam sword against our Masters of Arms.
In conclusion, Bedford Day 2019 was a smashing success. From fire breathing to foam sword fun, thank you to everyone who participated, came to say hello, or assisted in the quest to restore the village fool's sanity (which was eventually accomplished). Bedford TV published a live stream of the entire event, including another video with an interview of our CEO and fire spirit, Meghan! Take a look below…